Welcome to the world of wireless innovation, where the Citizen Broadband Radio Service (CBRS) is making waves by redefining how organizations access and utilize spectrum resources.

CBRS provides an efficient way for businesses to leverage wireless connectivity without breaking the bank thanks to its shared spectrum model combined with low cost of entry and high-performance capabilities.
Let's demystify CBRS, shed light on its remarkable benefits, and highlight some groundbreaking use cases that are transforming industries.
What is CBRS and How Does it Work?
Citizen Broadband Radio Service (CBRS) is a wireless communication framework in the United States that allows shared access to the 3.5 GHz frequency band (3550 MHz to 3700 MHz) for commercial deployment of private cellular 4G and 5G networks. CBRS aims to optimize the use of the spectrum by enabling multiple users to share the available frequency resources without causing interference or compromising performance.
Let's take a closer look at the CBRS architecture and the key components that bring it all together.
Regulatory Components
The Federal Communications Commission (FCC) has established a spectrum-sharing framework for CBRS. Here's a breakdown of the three tiers.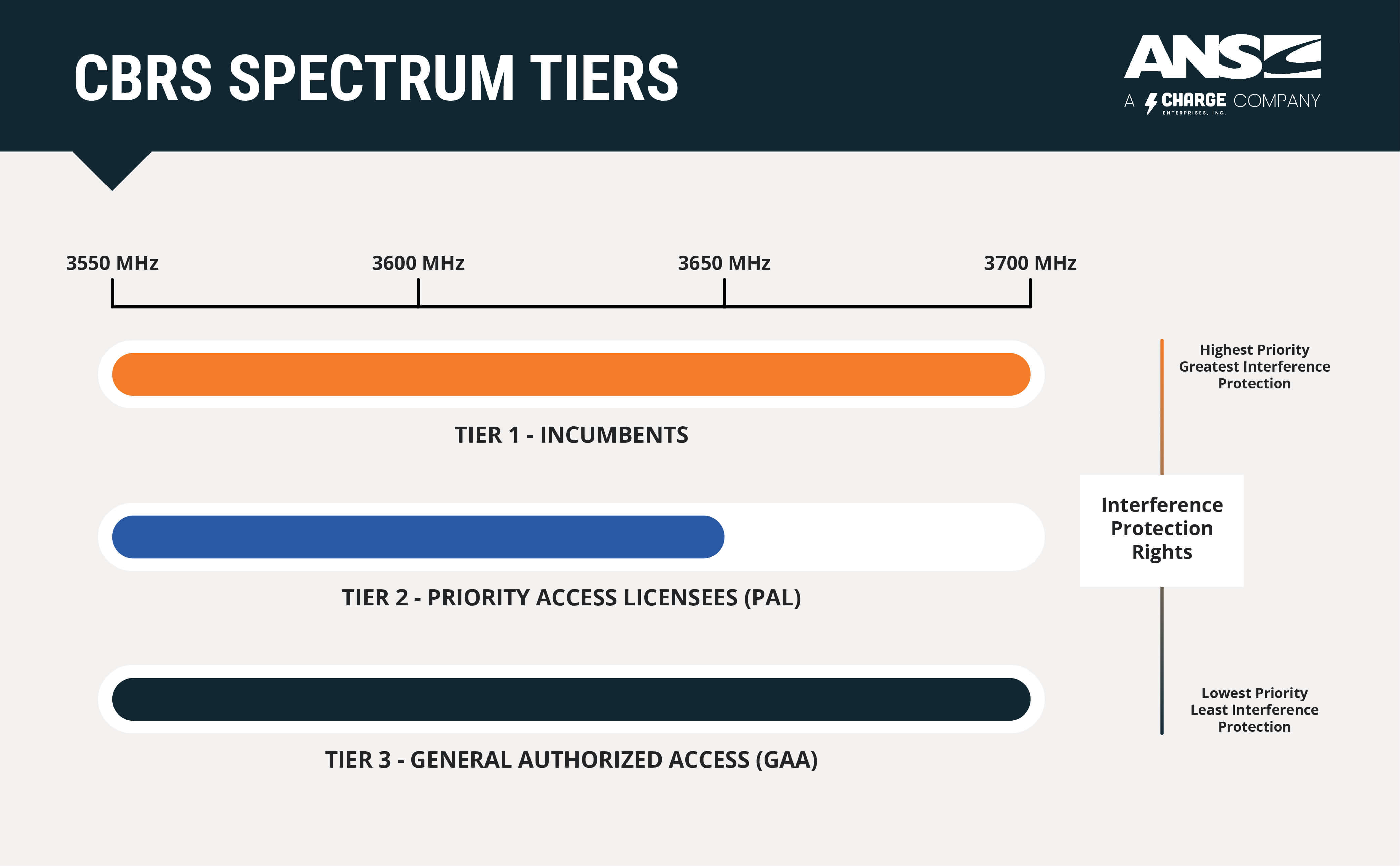 Technical Components
To manage the shared use of the 3.5 GHz band, the CBRS framework employs a dynamic frequency sharing Spectrum Access Systems (SASs). SASs are cloud-based services that dynamically assigns and manages the available spectrum among all CBRS users, ensuring efficient use of as much of the CBRS band as possible, while preventing interference between different tiers.
CBRS devices, known as Citizens Broadband Radio Service Devices (CBSDs), that are the devices broadcasting in the CBRS spectrum, are required to communicate with the network core and a SAS to obtain and maintain spectrum access. The SAS considers factors such as the device's location, operational parameters, and priority tier to assign appropriate frequency channels.
What is the Role of the OnGo Alliance in the CBRS Ecosystem?
The OnGo Alliance, formerly known as the CBRS Alliance, is an industry organization that promotes the development, commercialization, and adoption of spectrum sharing frameworks and has taken the lead on the Citizen Broadband Radio Service (CBRS) in the United States. Its primary responsibilities include:
The alliance consists of a diverse group of stakeholders, including mobile network operators, equipment manufacturers, system integrators, and other technology companies. ANS is a proud member of the OnGo Alliance.
How Can CBRS Benefit Your Organization?
Leveraging the CBRS spectrum provides organizations with access to reliable, secure, and cost-effective carrier grade broadband networks that can be deployed faster than ever before. Here are a few key benefits that come with deploying a CBRS-based private 4G and 5G network.
Notable CBRS Use Cases and Applications
The possibilities for CBRS are vast. Here are a few notable CBRS use cases to demonstrate its potential.
Expand Your Wireless Capabilities With a CBRS-Based Private Network
The spectrum sharing approach deployed in the CBRS band is a promising framework for shared spectrum access that offers maximum spectrum use as well as numerous benefits for businesses and industries seeking cost-effective, reliable, and scalable wireless connectivity solutions.
Organizations interested in deploying a CBRS-based private network should partner with experienced managed service providers. Premier system integrators will conduct comprehensive network assessments and develop a strategy for deployment and integration.