LTE is the mobile broadband technology of choice for mobile service providers around the world, powering 1.7 billion devices at the end of 2016 and expected to serve over 4.6 billion devices by the end of 2022. Until now, LTE required a specific license to use, so use was limited to mainly wireless carriers and military incumbents.
That is about to change.
What is Citizens Broadband Radio Service (CBRS)?
CBRS is a new shared spectrum in the U.S. which uses LTE to provide wireless voice and data service at 3.5 GHz. The FCC recently launched a pilot program for CBRS to deploy private wireless networks based on LTE without licenses. Previously, only military radars, fixed satellite services, and wireless ISPs operated within this band.
Now, however, the CBRS is being opened as a publicly available transmission band. It is being made available by the FCC under a new set of licensing rules to protect the incumbent users (such as the military) while making the spectrum available to a wide set of new users.
CBRS has three "tiers" of prioritized access as shown in the graphic below: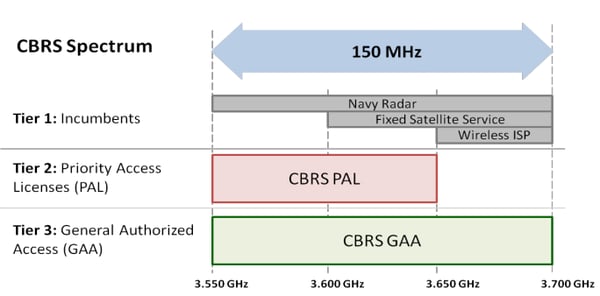 Source: SpiderCloud
Opportunities for Enterprises
Many enterprises have turned to building their own WiFi networks to satisfy data demand. However, there are some drawbacks to Wi-Fi for large organizations. As usage goes up, Wi-Fi can't provide predictable latency, service quality, or high bandwidth.
On the other hand, LTE is designed to provide those things and more. CBRS opens new business models and will accelerate both indoor and outdoor small cells because the typical concerns of co-channel interference are removed.
This change represents an opportunity for enterprises to upgrade their communication networks with high-speed private LTE solutions at the cost and simplicity of WIFI.
Benefits of LTE for Enterprises
The opening of the CBRS will have an undisputable impact on the business model for enterprise networks. But why should businesses seek to get on board? Here are some of the benefits of private LTE for enterprises.
Predictable Latency
Many critical business applications today rely on time-bound data transmission and communications. A delayed transmission can have catastrophic results. LTE offers predictable latency that organizations can account for when building out networks and related applications.
High Bandwidth Capacity
LTE is designed for supporting large numbers of bandwidth-hungry devices. The small cells that serve as LTE access points offer data rates as high as 300 Mbps without sacrificing predictability.
Seamless Mobility
A high-performing network doesn't matter if calls constantly drop and devices disconnect. LTE provides reliable connectivity throughout even large facilities.
Encryption and Protection
LTE has over-the-air encryption built in. LTE's security mechanisms are proven to work on billions of devices and are maintained by a large community of security-focused developers.
Power Efficient
LTE allows mobile devices to maintain long battery life. Because LTE communicates with radios that are a long distance away, it's been engineered to be efficient over a long period of time.
Requires Few Small Cells
With LTE, large facilities and even campuses can be covered with a relatively low number of small cells.
Networks drive business, and a high-performing, reliable network is invaluable to today's enterprises. The ability to own and operate their own high-speed LTE network means enterprises can ensure that a reliable business-critical communications network is always in place. CBRS and private LTE are truly the next step in making organizations future-ready.