Since 1991, ANS Advanced Network Services, LLC (ANS) has remained focused on building reliable connections for every industry we've served. We've grown from servicing telephone networks to providing high-quality engineer, furnish and install (EF&I) services for wireless carriers, tower owners, enterprise facilities, and government offices.
To serve each of our customers better, all daily operations are governed by our dedicated Quality Management team. This team conducts frequent internal quality audits, generates extensive quality metrics, documents all quality-related company activity, and facilitates external audits by customers and independent auditors.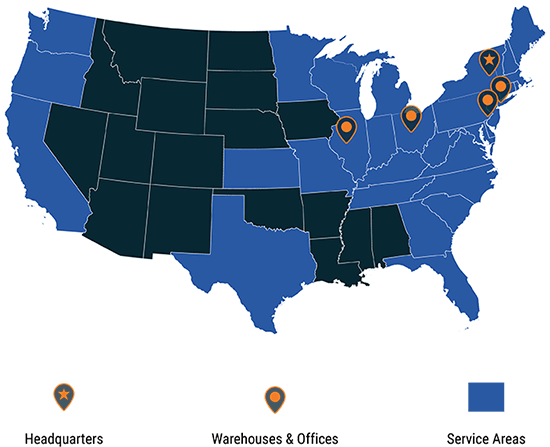 Telecom
The telecom industry can rely on ANS to be a guide and partner through any project thanks to our dedicated team of engineers and technicians. From cell towers to DC power plants, ANS has decades of experience providing a wide range of services to help grow and maintain the industry's expansive communications infrastructure.
The ANS ComTrain Certified tower professionals can handle the most complex installations and coordinate stakeholders to finish every project on schedule and on budget. ANS is also capable of designing, installing, inspecting, and maintaining equipment for every part of a wireless network to ensure optimum performance.
Providing service for:
Tower Owners
Wireless Carriers
RBOCs
Cable & Broadband Service Providers
Equipment Manufacturers
Enterprise
Our engineers and technicians understand what it takes to keep modern facilities fully connected and prepared for the future of communications technology. ANS provides a design, build, and managed services approach to its customers and partners in the OnGo private LTE space, working with its customers to understand their needs, deploy a system custom tailored to their use, and provide ongoing support, including monitoring and maintenance.
As a premier integrator, ANS can deploy networks with the bandwidth to support an extensive system of IoT devices, multiple office locations, and mobile teams who work in the field. Whether its an extensive campus or a hospital that cannot afford an outage, our team can provide a reliable network solution.
Providing service for:
Higher Education
Healthcare Services
Retail & Entertainment Complexes
Manufacturing
Logistics
Hospitality
Enterprise IT & Data Center Providers
Commercial Facilities
First Responders & Public Safety
Government
Government facilities at every level all require reliable and secure communications technology to effectively serve the people. ANS is able to serve federal, state and local government offices with any of our in-building wireless, network infrastructure, DC Power, tower services and information technology staffing, through our GSA Schedule 70.
Many of ANS employees are US military veterans and we continue to recruit veterans as well as recently partnering with the Army Partnership for Youth Success Program (PaYS).
Providing service for:
GSA Multiple Award Schedule (Formerly Schedule 70) Federal Contract,

Professional IT Telecommunications Services

New York State Procurement Services
Professional engineering, telecom, and general contractor licenses across multiple states
NASPO ValuePoint
National Association of State Procurement Officials
Partners with Cradlepoint's NASPO as a top-tier reseller and service/solution provider state to state.