Safe Inside - Safer Buildings Coalition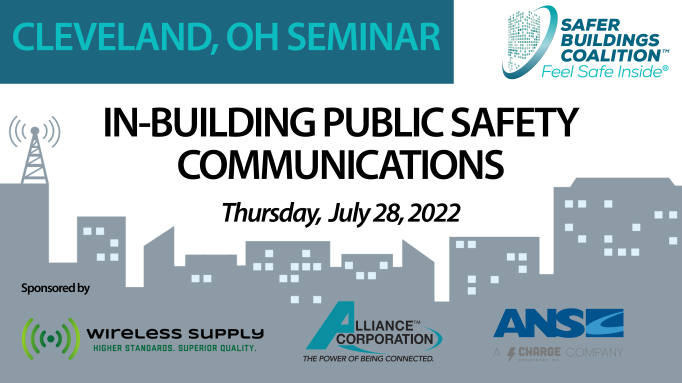 When: July 28, 2022
What: In-Building Public Safety Communications Seminar
Where: Woodside Event Center @ St. Michael's
5025 E. Mill Road
Broadview Heights, OH 44147
Who: Brendan Delaney, Director of In-Building Wireless
ANS' Brendan Delaney will be speaking on the Public Safety Educational Seminar at the Safer Buildings Coalition on July 28th in Cleveland, Ohio. This educational interactive seminar is based on model codes regarding in-building public safety communications systems. The agenda for the event is as follows.
Emergency Responder Radio Communications Systems (ERRCS): General Requirements Review
The important role of the Frequency License Holder/Radio System Administrator
Designing to minimize noise and interference
National and Local Code Requirements for Public Safety Radio Communications
Recent and Planned Code Updates – NFPA, IFC, Local Amendments
System Testing and Best Practices
NEW - Info about NICET Certification for Designers and Technicians
Panel Discussion, Local Town Hall and Q&A
As a sponsor of this event, ANS would like to provide a promo code to our valued customers and colleagues. The code is valid for 2 discounted registrations per company. Any additional registrants must pay full price.
Promo Code: ans-cleveland-2022
If you have any questions regarding the event, registering, or the promo code, please feel free to contact, dreed@anscorporate.com or khyndman@anscorporate.com.
Posted on June 21, 2022 updated on June 21, 2022