More connectivity, faster speeds, and greater signal reliability—the demand continues to rise! Carriers have never been under more pressure to deliver new and upgraded cell sites.
While this increase in projects has been a plus for creating jobs and opportunities in the telecommunications industry, it's not always straightforward to keep workers safe on the job. In a fast-growing industry, safety precautions often slip through the cracks as employers struggle to quickly hire and train new employees—many of whom often aren't fully qualified.
Who is Responsible for Safety?
Is it the tower owners? The contractors? The subcontractors? This has been a tricky question in the communications industry for quite some time. Because of the business structure of the industry, employee safety responsibilities can be spread across numerous companies. Carriers hire contractors, and contractors hire subcontractors.
OSHA is investigating the contracting process that wireless carriers and general contractors use to hire workers. Experts say it is not always clear who is responsible for ensuring safety gear is used and procedures are followed.
In reality, it takes accountability and diligence across the board—from the carrier level all the way to the individual employee—to create a truly safe work environment. Safety needs to be a top priority across every organization, no matter your role.
Jobsite Hazards of Communication Towers
Both tower climbers and ground crews alike face numerous hazards on the jobsite. The job can be physically demanding; crews work in all weather, battling both exposure to the elements as well as heat. Falling equipment and falling while climbing are also risk factors to crew safety.
Here are a few common hazards faced by communication tower workers on the jobsite:
Falls from great heights
Electrical hazards
Hazards associated with hoisting personnel and equipment with base-mounted drum hoists
Inclement weather
Falling object hazards
Equipment failure
Structural collapse of towers
Exposure to hazardous levels of RF radiation
Safety Best Practices
Here are just a few areas of consideration for any communication tower professional to keep in mind. For more comprehensive information, see the resources provided at the end of this article.
Verify the safety practices of contractors/subcontractors
Every entity in the contract chain should require lower-level contractors to have comprehensive safety and health programs in place. Whether you hire contractors/subcontractors or you are one yourself, OSHA recommends your verification process include the following:
Clear criteria for vetting and approving all contractors (including subcontractors), and verification that all contractors are subject to the same vetting criteria;
Procedures for obtaining (or requiring contractors to maintain) certification and training records for each climber on site;
Procedures for obtaining written approval for any subcontracting;
Procedures providing for the ongoing monitoring and evaluation of contractor safety records (including OSHA records);
Criteria for considering a contractor's safety record in the awarding of future contracts; and
Provisions for independent (third-party) audits of job sites to ensure that the contractors performing work are vetted contractors and that they are performing work using appropriate safety measures.
Provide complete employee training
The importance of thorough training can't be overstated. It is strongly recommended by OSHA that carriers and tower owners verify the training and certifications carried by the employees of contractors.
With such a high demand for upgraded wireless networks, many employees are transferring to the communication tower industry from other fields. Never be tempted to sacrifice complete training in favor of getting crews on the ground faster.
Create a culture of safety
It's up to everyone in the industry to maintain proper safety standards within their organizations. OSHA suggests starting each shift with a tailgate meeting to highlight the most important safety issues for the day. The meeting should also include daily equipment inspections. Making this a part of your daily routine will help ensure that critical safety practices are not overlooked.
Safety for Tower Climbers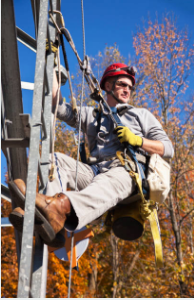 The National Association of Tower Erectors and OSHA have developed requirements and standards for training, safety gear and other safety practices when working on communication towers, including standards for climber training and checklists that contractors can use to ensure subcontractors are qualified to perform a certain task.
Start with comprehensive safety planning
No climbing whatsoever should take place without a comprehensive safety plan, including a Job Hazard Analysis and an Emergency Action Plan for the jobsite. Be sure to analyze all possible risks, and stay aware of shifting safety conditions. For instance, crews should not work at heights if the weather raises any question of safety.
Commit to 100% tie-off
It is quickly becoming a recognized best practice in the industry to institute a zero-tolerance policy regarding unsafe practices, and free climbing in particular. All employees should certify their commitment to "100 percent tie-off" at least once each year. Job site supervisors need to have a firm commitment to enforcing 100 percent tie-off at every worksite at all times when employees are climbing.
Understand proper safety equipment and techniques
Tower climbers should always use fall protection systems and hoisting equipment that are compatible with the tower and the tasks being performed. In addition, employees should be thoroughly trained in proper climbing techniques, including maintaining three points of contact with the tower. Keep in mind, it can take years to master communication tower climbing to a point where you can teach it to others.
Safety for Ground Crews
While it's easy to think that ground crews can be more lenient when it comes to safety, they must be just as diligent about maintaining safety standards as tower climbers.
Don't allow crews to work above other crews
Although not an official OSHA regulation, this is a common-sense policy that could save lives. In 2006, a cell site worker unfortunately died when a rope snapped above him and a 50-pound antenna plummeted more than 200 feet to the ground. While there are many factors that contributed to this terrible accident, it could have been prevented if one crew had not been working directly above another.
Always wear personal protective equipment
The incident above proves that anything can happen on a jobsite, particularly in an environment as dangerous as a cell site. Wear the appropriate personal protective equipment at all times, including hardhats, eye protection, and high visibility clothing.
Stay alert and aware
Be particularly aware of overhead hazards, especially during lifts. Recognize the importance of keeping clear of the load.
Resources
OSHA Communication Tower Best Practices